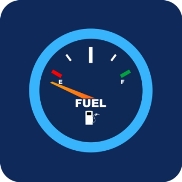 My beautiful bride loves games; we play things like Phase 10,
UNO
, Scrabble,
Yatzee
, and many more. One game in particular that she loves to play is "How Close" Now I will stop all of you freaks out there and let you know right off the bat that this is no sexual game...although it is almost as much fun.
The game goes like this, First you fill up your gas tank on Sunday or Monday. Then you drive around town all week taking the kids to school, running to the grocery store, Target, across town to the in-laws, etc. Usually by Wednesday or Thursday the Empty light comes on in the dashboard.
"Let the games Begin!!!"
"How close can you come to running out of gas; without running out of gas?
On Wednesday Beth hit her record and I doubt that she will ever be able to top it. We were coming home from taking the kids to see Santa at the local mall (by the way, Santa at this mall is a Christian and shares the gospel with every kid that comes through the line; how cool is that.) Anyway, so far we have had the Empty light on all day and have probably driven about 20 miles so far. Beth was looking for a cheap gas station, $1.54 was too much because we knew that some of the stations had gas for $1.53. Why waste
the
penny? Plus now the game was getting
suspenseful
. We made it all the way to the mall, now it was time to head home. We passed two $1.54 stations but we knew just 1 mile
ahead
there was the almighty penny-saving Hess. We pull into the complex where the station is and all of the sudden; Chaos! Lights on
the
dash
come on, power
steering
goes off, the car literally is in
cardiac
arrest. Luckily we hit a downward hill. We make a right turn into the gas station rolling the entire way; all of the pumps are taken except for the 1st one in which we rolled right up to. 100 yards without any gas and we made it to
the
finish line without having to push at all.
Beth Wins!!!! Game Over!!! It's not worth playing anymore because I think it'd be impossible to beat the High Score.